Alessandra Celletti's first DVD is a perfectly programmed video album consisting of thirteen instrumental and vocal tracks interpreted by half a dozen Italian video directors, packaged in an outrageous hardcover book featuring hundreds of photos, interviews, album and concert reviews, discographies, surrealist proverbs and much much more. Thrilling dada type design on every page and even a bookmark ribbon!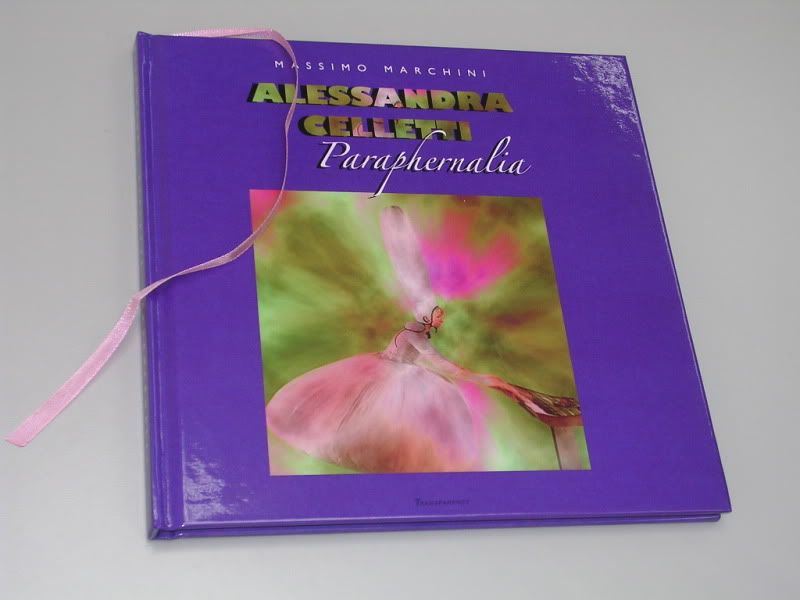 Alessandra Celletti . Paraphernalia
Transparency 0372
Deluxe hardcover Book + DVD
in the author's own words...
This is not a book, actually. It's more like sneaking into a drawer of
one of the most accomplished pianists of our time.
Oh, I was wrong, sorry - She's not a pianist, in the same manner...
She's the Sugar Plum Fairy or Titania of The Early Morning Rain.
She composes strange music that seems to have defeated time. She's
a classical musician and yet avantgarde punk rocker. She's also a very
accomplished plumber and also a plane pilot. But she doesn't drive a
car. Oh, and she plays Satie like no one else. She is probably Erik
Satie... in a new life.
She paints naïve but her poetry is very complex and reminds of
Rimbaud. But really words cannot speak, expecially of music.
So this not-book will try to explain this extraordinarily brilliant
not-pianist for you, I know, that are not-readers. This will work
perfectly and the editor kindly has enriched this book in this very
first US limited edition with a DVD full of ideas, music and
performances both avantgarde and classics.
Better grab your copy while they last. Keep it in your vaults. It will
value a treasure in the next future. (Max Marchini)